Hello dear hearts. I have received a diagnosis of stage four colorectal cancer. I am in good hands but accumulating significant debt. Please help me to raise funds for my treatment. Click the below link for more details and to donate:
https://chuffed.org/project/eliza-jaye-cancer-treatment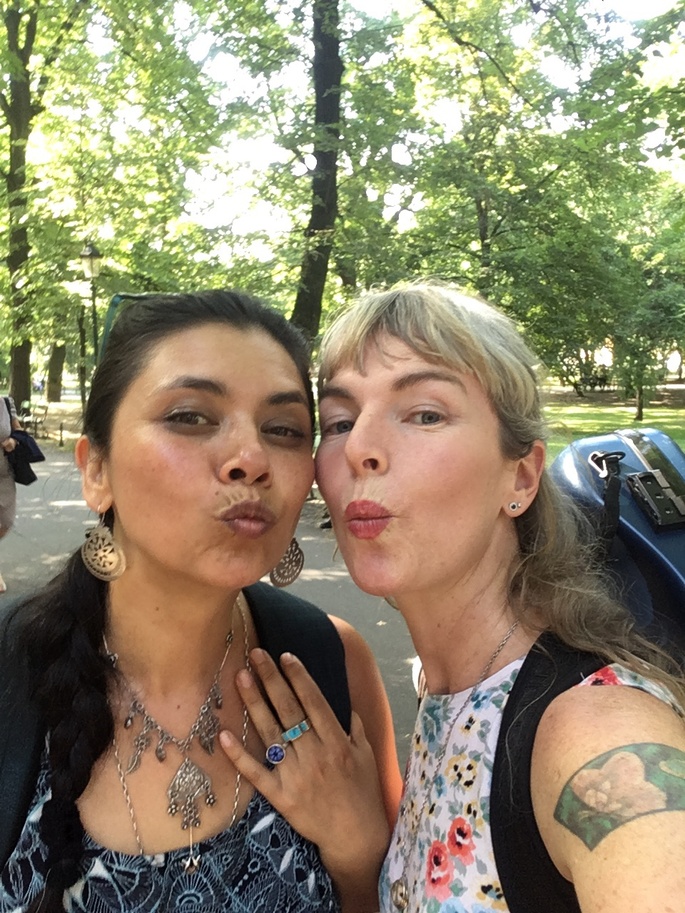 My beautiful friend Suwindi has offered to run this campaign for me throughout August, September and October to help raise funds for my cancer treatment. Cancer is an expensive hobby!!
My treatment and costs thus far have involved:
Colonoscopy, Hospital fees, blood tests, anaesthetist. Paid for independently.
IVF egg harvesting (as the chemo is damaging my fertility). Hospital fees, blood tests, anaesthetist. Paid for independently.
I have had numerous MRIs and CTs paid for independently.
I have a liver surgeon, colorectal surgeon, radiation oncologist and chemo oncologist all of who's appointments are paid for partly by Medicare/ NHS but there is a gap. I pay approximately half.
I have undertaken three months of chemotherapy, paid for by Medicare/NHS.
I attended a residential program 'Living Mindfully With Cancer' at the Quest For Life Centre, which has been an incredibly useful resource as regards my mental health. Paid for independently.
I have a naturopath/osteopath and nutritionist who has expertise in the area of cancer prevention and treatment which I pay for independently.
I had an infected tooth removed as the combination of dental infection and chemotherapy have a detrimental effect on the immune system. Paid for independently.
As there are multiple issues to contend with in my case there is no set procedure. My team of oncologists and surgeons are advising me as to the best course of action as events occur. Recently my CT showed that the liver tumours are no longer stable but are growing and so we are looking to schedule liver surgery as a matter of urgency. My rectal surgeon has advised that they may want to perform both surgeries at the same time so that the primary tumour is not creating further metasteses in my liver. He is scheduling theatre within the next two weeks.
My forthcoming treatment will most likely involve:
Liver surgery to resect the tumours + Rectal surgery to remove the primary tumour (this will be a combined opperation involving two surgeons, 2/3 of my liver being removed, a section of my colon removed and a temporary stoma created)
A period of months to heal and recover from surgery.
Three months chemotherapy to 'mop up' residual cancer cells.
Two-three months to heal and recover from chemo.
Rectal surgery to reverse temporary stoma.
A period of months to heal and recover from temporary stoma reversal.
These procedures are paid for by Medicare/ NHS and extra costs will become apparent as treatment progresses. Throughout this period I will need finance for further MRIs and CTs and some funds to pay for a carer when my family are not available. I am looking at probably another year of hard work to get things under control and hopefully I will achieve remission at the end of it.
My specialists have advised that there is a very high likelihood of recurrence after achieving remission and so my life post treatment will need to be as stress free as possible. It is not advised that I return to work with autistic children or partake in any intense touring with my music.
We are trying to raise £20000 to cover the expenses that have already occurred and for the forthcoming treatment ahead as well as a trip away upon treatment completion. We have added a contingency so that I can rest and recuperate after treatment completion and so that I have an opportunity to engage further alternative and medical options as they become available. This will hopefully include access to a new immunotherapy option for metastatic colorectal cancer which is currently in clinical trials and showing promising success rates for complete cure in the long term.
What you can do to help:
The last six months have been quite exhausting but now, post crisis, I am feeling positive and optimistic.

I feel fortunate to be surrounded by really great natural health professionals and medical doctors and nurses. The below photo is of myself and my new mate Megan in the hospital chemo ward.

I have been busking to raise money for the treatment and have experienced an outpouring of well wishes, kind gestures and heart felt support from complete strangers. I am so relieved to be playing again!
It is a very moving experience to mingle with the public under these circumstances. Everybody is affected by cancer at some stage in their lives, we are not alone as we have each other. A kind stranger left this note in my case one day:
The show I did in the UK last December was a great success. I bid farewell to my beautiful friends, colleagues and supporters and had a really fun night. Half of my adult life has been spent in the UK.
Image Chris Sheffield
I am thinking of you all with much affection.
Eliza xx